San Pietro Wedding
Wonder and Serenity
For the amazement on the faces of spouses and guests and for the professionalism you can entrust without hesitation
Why choose San Pietro Sopra Le Acque fort your Wedding?
Experience and attention to detail and TO THE SPOUSES! To their tastes and desires, we are curious to welcome you and learn about Your Story. We will adapt to your needs by customizing our services, but above all we will be able to guide you in the choices, help you in the most difficult evaluations.
Always ready to assist you
San Pietro's Staff will be arm-in-arm with you from the very first moment, focusing on every aspect, so that, that day, everything is as you imagined… or even better!
Unique and beautiful settings, an unforgettable place for you and your guests.
Completeness of the location and its services.
The excellent cuisine, with devoted attention to raw materials and tradition, with current revisions.
San Pietro Sopra Le Acque can be not only the heart of your location, here the whole story of your day can take place …
The whole structure just for you
Don't miss the opportunity to have all the spaces of the Resort at your disposal, which will make you event exclusive, a privilege fort your guests.
It offers the peace of the second floor in case of bad weather, as well as the freedom to continue the party with music even after midnight, without disturbing the public quite.
On request there is the possibility to use the playing fields and the SPA.
Overnight stay with breakfast is included in all rooms, 16 double rooms, with the possibility of reaching a maximum occupancy of 44 people. For any other necessary sleeping accommodation, we collaborate with other nearby accommodation facilities.
Throughout the stay, our restaurant will be at your disposal for Pizza Night, Brunches by the pool and other occasions to fully enjoy the company of your loved ones.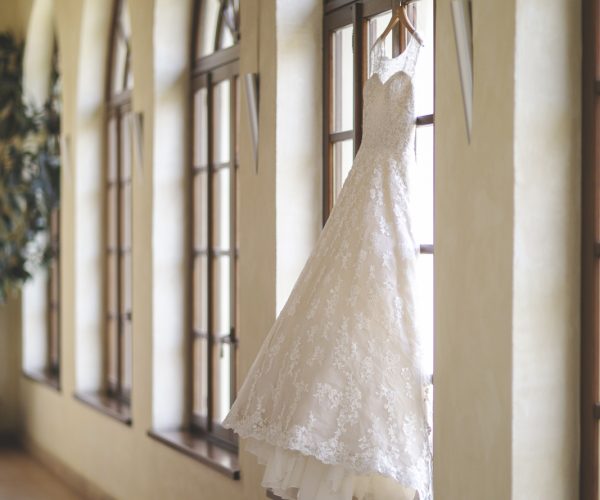 Preparation for the future bride and groom
The apartment La Loggia is the ideal place for the preparation of the bride, who will need space and light.
Your day can start in the characteristic rooms of the Resort, so as to avoid the unexpected and any delay.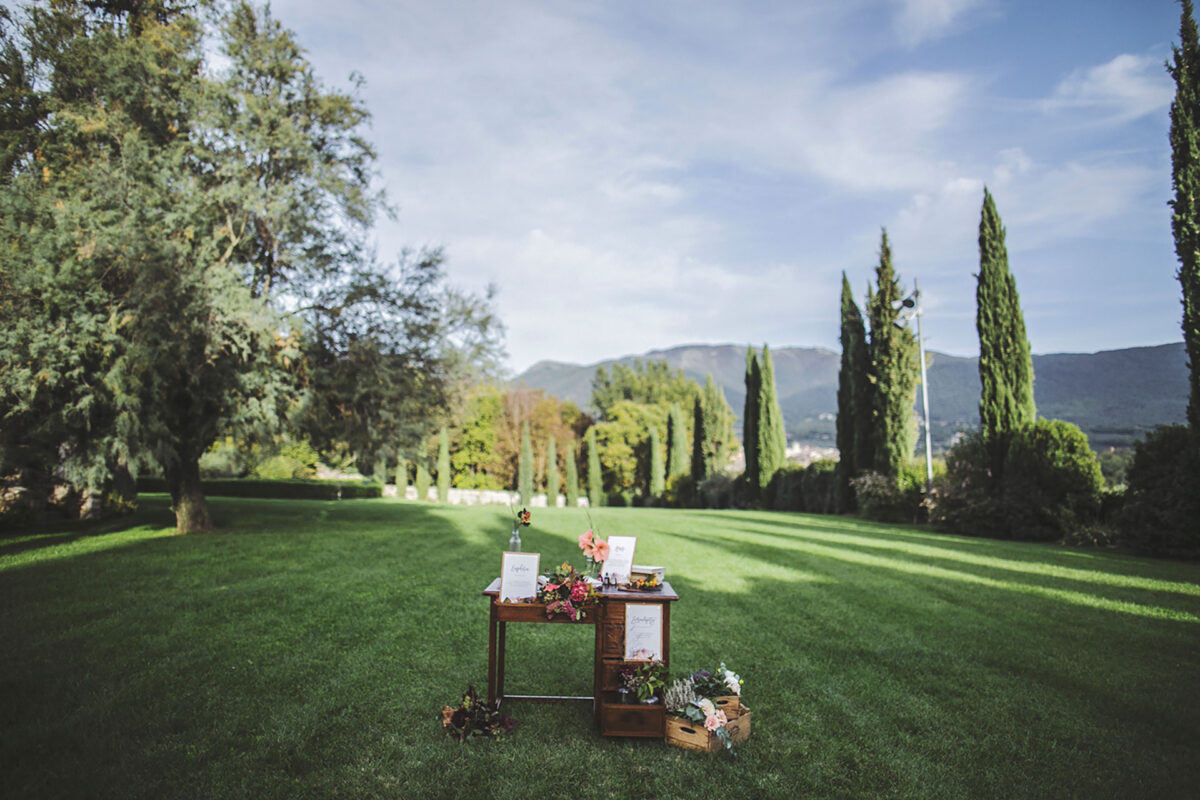 Civil rite
At San Pietro sopra le Acque Resort you can celebrate your civil rite with legal value;
the ancient Rose garden, with its Italian style, surrounded by ancient walls is one of the locations at Your disposal that you can choose.
Religious rite
Do not miss the opportunity to say yes in the ancient and fascinated consecrated church of the former Franciscan convent.
Late Manneristic style with original paintings, frescoes, floors and stucco.
For the banquet we take full advantage of the beauty of the place with aperitifs and buffet of appetizers in the parl of the restaurant, a wide Italian garden, dominated by the majesty of Martani Mountains, offers space and freedom to the guests.
Then you have at your disposal the comfortable banquet room with air-conditioning and able to contain up to 250 people.
The organization of San Pietro sopra le Acque is open and flexible to the evaluation of any request: do not set limits!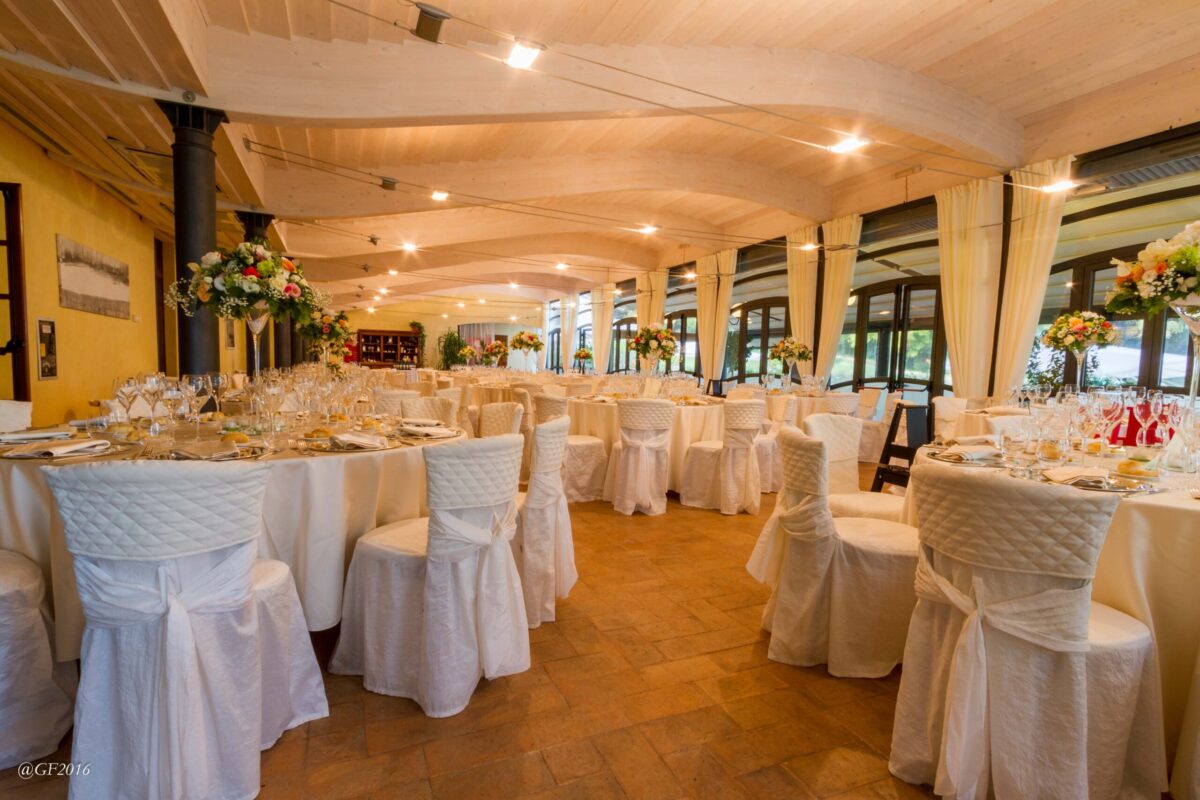 Cuisine
Thanks to the presence of the restaurant inside the structure, we can offer to the bride and the groom the total customization of their menu according to their preferences and desires, guaranteeing the assistance and advise of professionals.
Our Chef proposes his revisited traditional cuisine, with attention to local raw materials.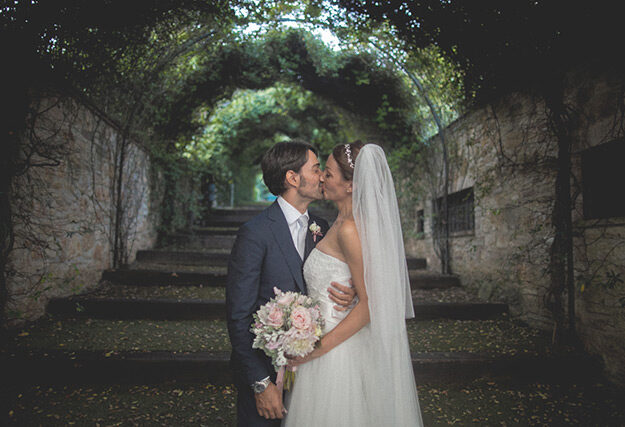 Shooting
Unique views for your photo shoot.
From the elegant environment of our interiors, to the ones of our romantic and well-kept gardens, to the scenic and mysterious tunnel of love and secular woods.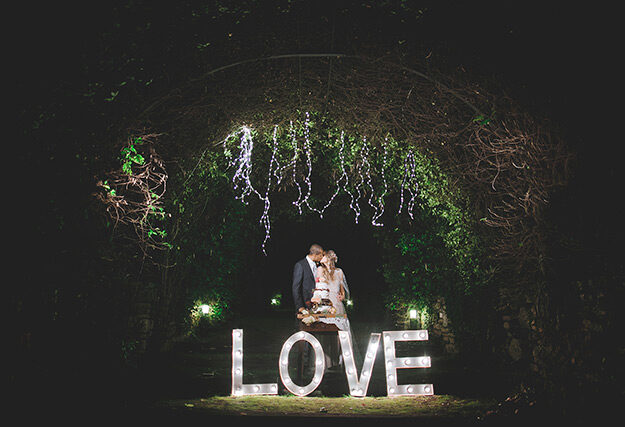 Party
With the possibility to continue with the celebrations until late at night and the collaboration of tenders.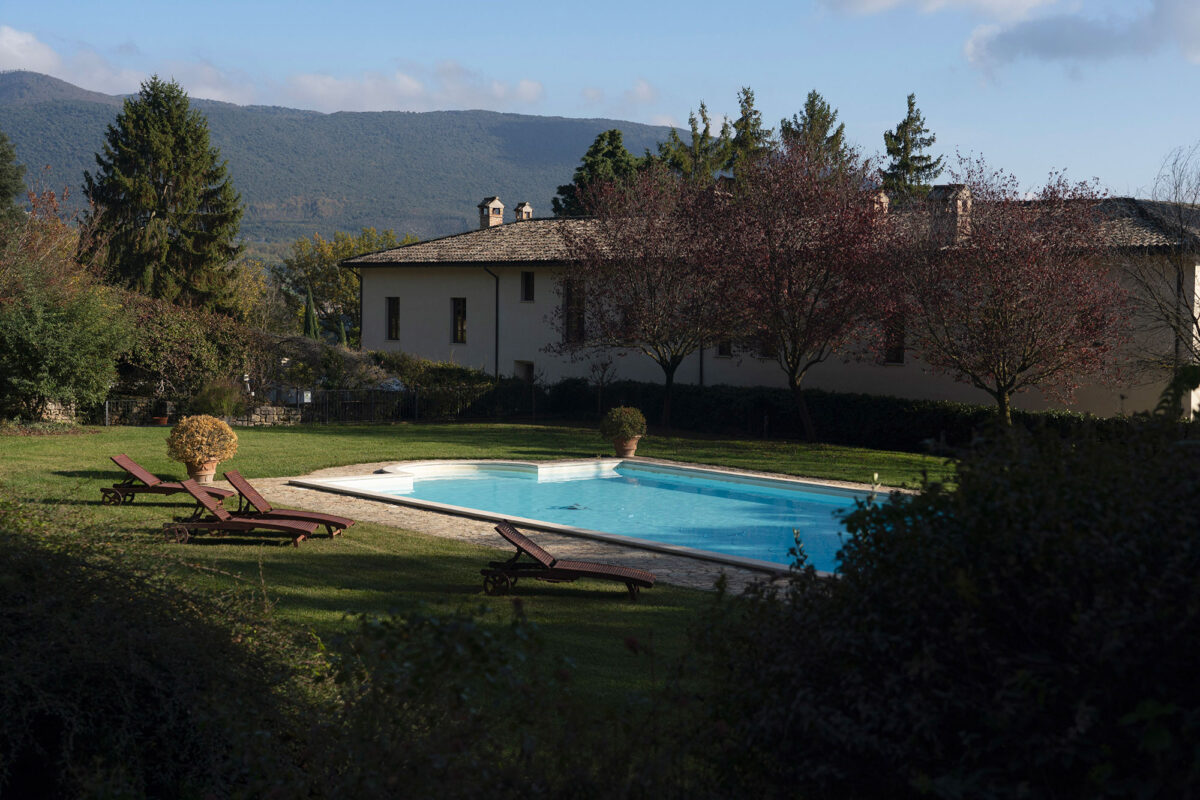 Relax
The day after the big party, you can relax in the surrounding nature of the swimming pool park.
We can organize a brunch to great your guests and give them another moment of serenity.
Services
Organization and coordination of suppliers, with your in-house Wedding Planner and all our exclusive service providers, selected in years of experience:
Photographer and videographer
Florist and styling event, with stage sets
Unique and original tableaux
Printing services: from participation to personalized placeholders
Wedding favors
Bands and DJ music and entertainment with professional animators
Entertainment for children and baby sitting
Rental furniture and event equipment
Lighting service
Bridal makeup and hairstyling
Vintage cars and transfer organization
Security service
Luogo da tenere in considerazione per banchetti e matrimoni per la bellezza del panorama ed il suo fascino Pr storia e cultura offerti ai vostri occhi.
Un posto davvero bello e super rilassante. Adatto a coppie, amici e famiglie per passare un wekkend di relax e natura.
Struttura molto accogliente. Personale gentile, cucina gustosa! (ottima la tartare). Servizio pulito e preciso. Stanze confortevoli, ordinate e accessoriate.
Molto consigliato. Un tuffo nel passato con un confort al passo dei tempi. Tanto verde intorno ben curato. Ottimo ristorante. L'unico neo la SPA Troppo piccola e un po' trascurata.
Location splendida, curata e ben tenuta. Personale cortese e disponibile. Camere confortevoli e attrezzate, bagni eccezionali con doccia gigante.
Ex convento francescano del 1600. Ottimo resort immerso nello spettacolare scenario umbro. Camere molto belle e confortevoli, Spa piccolina ma decisamente rilassante e ben fatta.
Do not miss the opportunity to live a unique experience.
WEDDINGS
Wedding contact form
We are always glad to meet the couples of future bride and groom and guide them inside the property to discover every interesting corner of the Resort. Ask for availability for the visit to the structure. Indicate the ideal date and time for you, you will be contacted very soon! Request your visit, fill in the form: